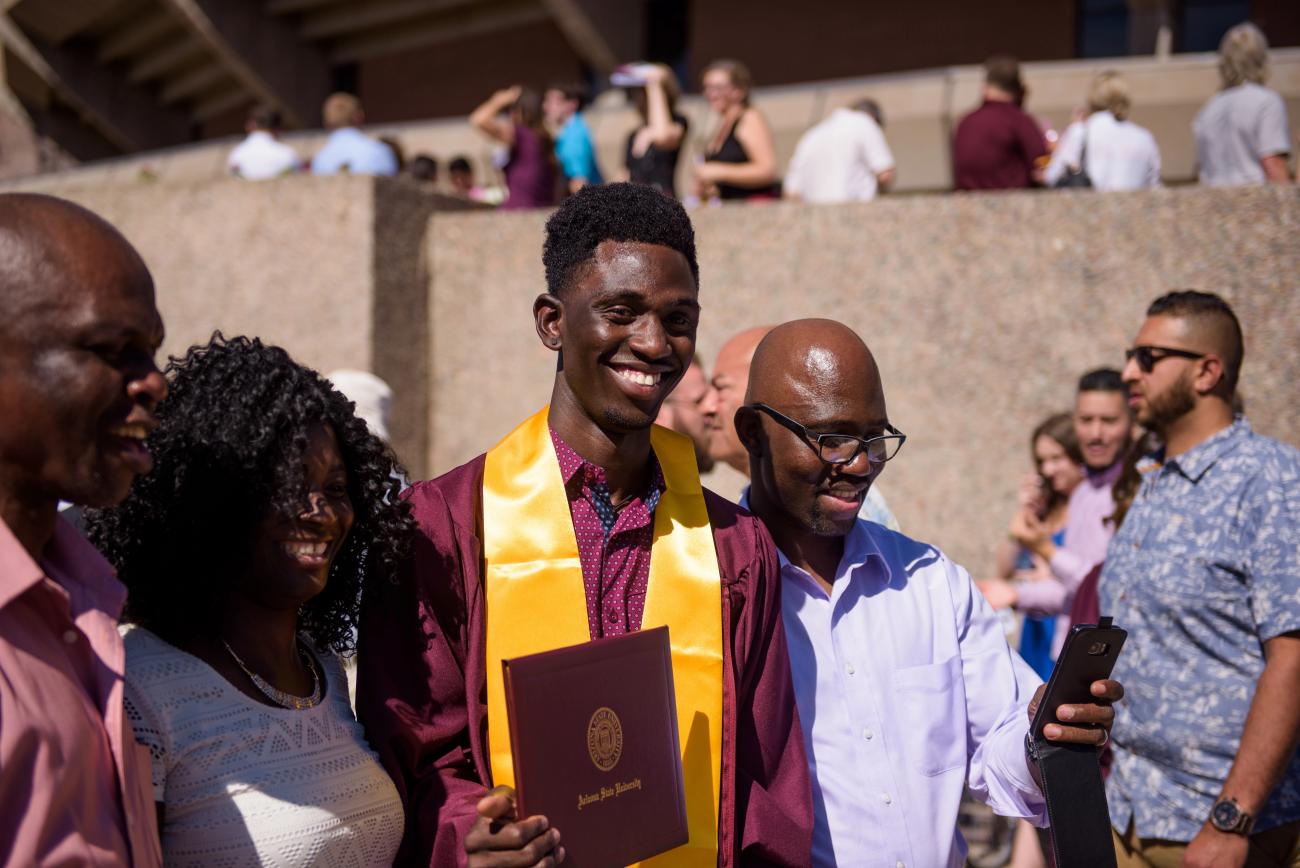 Inspiring students to change the world
Welcome to the School of Social Transformation
Breaking boundaries, creating social change
The School of Social Transformation focuses on transformational knowledge, including creative research approaches to themes and questions embedded in broader historical, social and cultural contexts. We prepare our students to be
informed members of society who are interdisciplinary, team-oriented, real-world problem-solvers

that can thrive in any environment, career or pursuit.

A message from SST Director,

Camilla Fojas
"I hope you all had a restful and nourishing summer. This year promises to be exciting as we welcome new faculty, a postdoctoral fellow, new staff, new students, and a renewed search for a social science dean. I would like to highlight the newest additions to SST. We are delighted to welcome a cohort of excellent scholars. You will hear more about each of them in our newsletters and at various events. Aaron Mallory joins us from the Department of Geography and program in African American Studies of Florida State University and brings expertise in Black spatial production, Black queer health, and Black feminist knowledge production. Candice Lyons, a historian who works on Black queer archives, holds the Chancellor's Postdoctoral Fellowship at UCSB and will join SST next Fall. Lila Sharif joins us from UIUC and works in global Indigenous studies, critical refugee studies, ethnic studies, environmental justice, and transnational feminism. We welcome, Sa Whitley, a presidential postdoctoral scholar who works on Black queer and transgender spatial imaginaries. They received their PhD in Gender Studies from UCLA and was recently a post-doctoral scholar at Dartmouth. We are still in the process of negotiating a couple of hires and will have more information about that soon. As you can see from these exciting new scholars and their cutting-edge work, SST is an amazing place to be.
We will be keeping you all apprised of our events, workshops, and talks as they arise. We look forward to your engagement with our work and the ongoing conversations that they inspire. We hope to see you soon." - Camilla Fojas
African and African American Studies
African and African American history, migration, art, literature, education, family life, race and institutionalized racism – that's just a sample of what you'll learn from our interdisciplinary faculty. What can you do with all that knowledge? Anything. Our globally-aware, socially-engaged graduates have gone on to medical school, law school, journalism, entrepreneurship and more.
American Studies
ASU's Master's degree in American Studies trains students with interdisciplinary approaches aimed at understanding the U.S. in local and global contexts. The American Studies MA includes critical explorations of power, empire, settler colonialism, and justice. Given our geographical location in the American Southwest, our program values an exploration of diasporic and transnational influences in U.S. cultures and social/political history.
Asian Pacific American Studies
What can you learn from Asian American and Pacific Islander experiences? The challenges and opportunities of immigration, globalization and race relations in the U.S. and beyond, to start. You'll discover the key processes that are changing societies worldwide and their challenges from our engaged faculty. That knowledge will make you an ideal candidate in the global job market, especially after you complete the semester-long internship.
Indigenous Education
Whether you are an experienced educator working in tribal communities or new to exploring the topic, the MA in indigenous education helps you create practical solutions to unique issues. Researchers and students work collaboratively with native communities and contribute to the advancement of new knowledge, practice and policy in American Indian and indigenous education.
Justice and Social Inquiry
The most comprehensive program in Justice Studies in the nation means you learn about justice from every angle - race, gender, class and justice are just the beginnings. You'll be able to conduct advanced research with our award-winning faculty as well as complete internship with 180+ placements around the U.S.
Social and Cultural Pedagogy
How do you transform education beyond the classroom? And where does education start and stop? With the first program of it's kind in North America, this interdisciplinary field of study brings a social justice perspective to educators in schools and beyond. Graduates have transformed their teaching in high schools, youth programs, museum education and beyond.
Women and Gender Studies
What does a women and gender studies program with a social justice focus and intersectional approach look like? A culturally diverse, globally-engaged hub of activity that focuses on a wide-range of topics from media and science to history and justice. Our graduates are creating change in law firms, domestic violence shelters, advocacy organizations and government.
Our Centers
Our centers and initiatives reflect our dedication to examining the processes of change and developing collaborative spaces to work with others in changing the world.

Center for Gender Equity in Science and Technology


The Center aims to create an interdisciplinary, racially-ethnically diverse community of scholars, students, policy makers, and practitioners who explore, identify, and ultimately create innovative scholarship about and best practices for under-represented girls and women in STEM.

Learn more
Center for Indian Education


Established in 1959, the Center for Indian Education is an interdisciplinary research and service organization that promotes studies in American Indian/Alaska Native policy and administration to contribute to the quality of scholarship and effective practices in education, professional development and tribal capacity building.

Learn more
Center for Work and Democracy
The Center for Work and Democracy is an independent research center that contributes to rebuilding the political voice of working people. Secondarily, the Center contributes to social scientific discussions of the political moment and endeavors to develop a political social science that is more relevant for the challenges of the twenty-first century. 

Learn more
Helping to make the world a better place
Rhodes Scholar and alumna
Shantel Marekera

uses her passion for advocacy, policy and international human rights law, particularly as it concerns women's rights in her homeland. The Zimbabwe-born Marekera launched the Little Dreamers Foundation, a subsidized preschool for low-income children, in her suburban community of Harare. Marekera hopes to introduce a new branch of the preschool each year in a different part of Harare and ultimately open a primary school.